Links, Updates, And Palin Bingo
Figured I'd skip the musical offering this week.
Here are a few interesting reads that I found:
1) Thanks to
Eden
for a link to
Not Always Right
, a site that records silly/crazy customer behavior. I lost
hours
to this thing. Here's an example to give you a taste:
Hopefully, She Got The House
Hotel Rhode Island, USA
Me: "Thank you for calling, how may I help you?"
Guest: "Hi, yes, I'm calling because your hotel charged our credit card twice?"
Me: "Okay, ma'am, if I can have your name, I'll look you up in the computer and we can get this straightened out."
Guest: *morphs into an uber-witch in 3 seconds flat* "Straightened out? D**n right you're going to get this straightened out! You charged enough for that crappy little room, I'll be d**ned if we're paying for it twice! My husband works too hard for his money to be charged double for something like this! There wasn't even a BAR there!"
Me: "I'm sorry, ma'am, but if I can just have your name and the date you stayed-"
Guest: "That's just IT! I was charged on two separate DATES. My name is ____ and my husband and I stayed there on June 9th. There's another charge on there for the 17th, I want this fixed!"
Me: "Yes, ma'am. I understand, ma'am. I'm looking now, ma'am... okay, I see the problem. You did stay here on the 9th of June. I'm showing that someone by the name of [husband] stayed on the 17th."
(There's dead silence for a moment, and then whispering.)
Guest: "What?"
(At this point my stomach falls into my shoes, because I can hear her mind ticking away, and I know something she doesn't: another name is listed on the screen with her husband's for the June 17th stay, and it's NOT HERS.)
Me: "Um... ma'am?"
Guest: "I see. You've been very helpful."
Me: "Thank you ma'am. Can I help you with anything else today-"
(At this moment the woman drops the phone but does not hang up, and I hear her begin to scream at someone, swearing in combos I never would have thought up. I hang up quickly and try to go about my business, making a note of it to tell my boss. Then I get another phone call...)
Me: "Thank you for calling, how-"
Guest's husband: "I want to talk to your manager, you stupid little b**ch! You dumb little c**t, you probably just cost me my marriage and I am going to sue your s**thole hotel for every penny it's worth! Do you hear me? Do you?!"
Me: *click*

2) So, who's watching the debates tonight? You'll probably need something to keep your hands busy to keep you from tearing your hair out in desperation. And I have just the thing for you! Courtesy of
Gedblog
, the
Palin Bingo
! Rules are
here
, printable PDF is
here
. We'll be playing!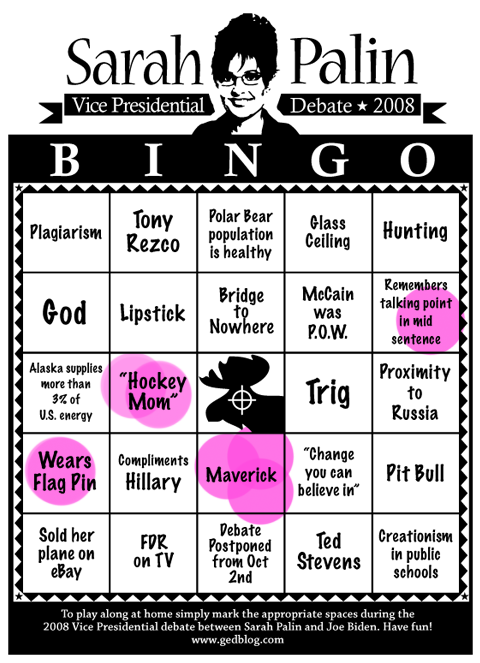 3) Everybody go over to
Waiter Rant
and congratulate him on
his book being made into a freakin TV Show!
Talk about a well-deserved break.
4) The
kinky church sign
has been changed! It now says "Thank God for dirty dishes; at least you have food." Once again, the elevator failed to go all the way to the top. I have to agree with them, though, that there are many good uses for dirty dishes!
The Goldie has spoken at 7:09 AM